Restaurant Sauco, may have changed its location to Alcala, but it has not changed its great food and service, that makes it a "to be" place to visit while out here in the Los Gigantes area.
Right on the sea front in Alcala, the restaurant has a roomy and cool terrace area, with great views across to the Island of Gomera.
Inside there is ample seating and everything is kept spotlessly  clean.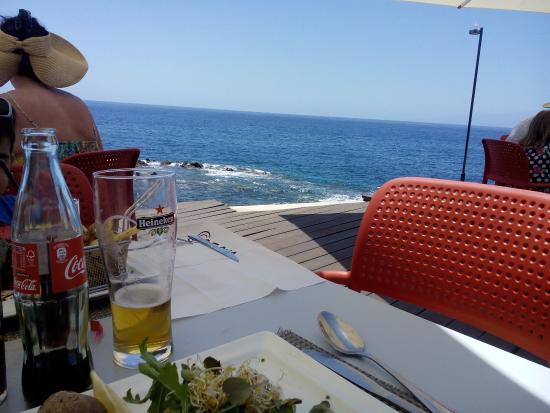 Jorge and the gang make you feel welcome and the menu covers a wide range of food, from typical Italian dishes to local Spanish tapas, and every day there is something special.
A 5 minutes walk from the old Alcala beach, so you could spend some time there after of before your meal.
Parking is easy and the restaurant is closed on Tuesday.To telephone for a reservation call 922860744.
Below some photos showing Jorge,view from the terrace,kitchen, inside the restaurant,the Alcala beach,map.
To find the restaurant take the road to Alcala, and on the roundabout (just past the petrol station) take the first left down to the sea.
The road is one way, and when you get near to the sea park anywhere on that road, and then walk down to the sea, turn left,and next to the Cash and Carry you will find Sauco.