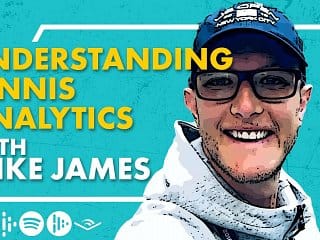 Tennis has never been entirely a numbers game. There's the sport's idiosyncratic scoring system, which follows neither convention nor consistency in its counting. Players can win matches despite getting fewer points and games than their opponents. Add the variety of playing styles and surfaces in use, and it all helps explain why it has typically defied standard statistical analysis.
But big data has arrived, just as it has in other sports and elsewhere. Most Top 20 players on both the ATP and WTA tours now make use of analytics, and it is becoming increasingly institutionalized. Across the women's tour, the WTA's partnership with SAP provides coaches with increasingly detailed statistics that can be used during on-court coaching. Grand Slam events ply players with numbers, and Tennis Australia's GIG initiative does extensive data mining. Plus, private companies have sprung up to provide even more video and data to players, federations and college teams.
One such private company is Sportiiianalytics, whose founder happens to be an occasional visitor to Los Gigantes,Mike James.
Mike is a former UK tennis coach who moved into the world of tennis data analysis in 2014. Since then he´s worked with many top players and coaches like Stan Wawrinka and Misha Kecmanovic and is now the data analyst for the 2020 French Open Champion Iga Swiatek.
So where points are won and lost,errors forced and unforced,percentage serves in,points won at the net, and so on, the modern game as we watch it on TV is filled with stats during and after the matches.
To really understand more about this I have added a link below to a really interesting podcast Mike did with Dan Keirnan of Control the Controllables- click on the link.